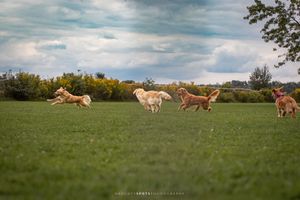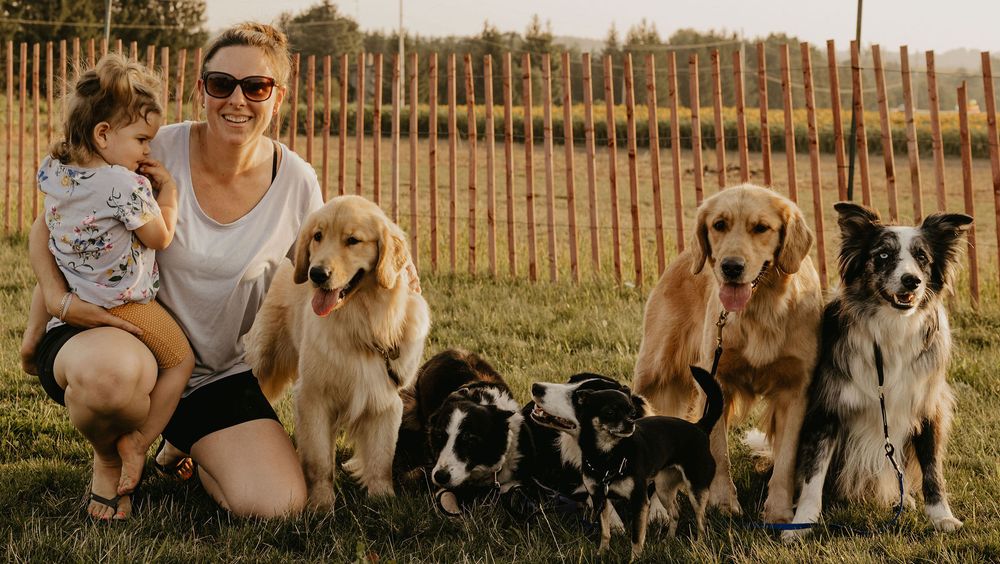 Welcome to Maplelane! My name is Jen Hall and the Maplelane breeding program was passed down to my sister and I by our Mom Sherri. My sister, Caitlin Luck, has her own kennel Cedar Grove Golden Retrievers.
My Mom started breeding Goldens in 1991 when I was only 4 years old. My siblings and I were very lucky to grow up in a house full of dogs! When I was a teenager I got into competitive dog sports and ventured out into different breeds. I traveled North America for many years competing in flyball, dock diving, agility and entertaining as a member of the SuperDogs. My dogs and I have performed at the New York State Fair, CNE and The Royal Winter Fair and have even performed half time shows for the Toronto Raptors and New York Knicks. I love training dogs and stepping out on the field or stage with them to showcase their talents. I've helped my Mom with her businesses over the years, Maplelane Farm, Bye Bye Birdie Goose Control where we trained Border Collies (my other favourite breed) to control Canadian Geese on golf courses and other properties, and Elite Detection Dogs. This is where my Mom and I discovered our love for scent detection. Dogs truly are incredible with what they can do with their noses! We trained dogs to detect bed bugs and I traveled the GTA with a team of dogs completing inspections. It was when we first got into training detection dogs that I traveled to North Carolina and became a certified trainer in scent detection and search and rescue through North State Training Academy. In 2012, I began my career as a K9 Officer at Toronto Pearson Airport with the Greater Toronto Airport Authority, training and handling an explosive detection dog. Over the years, I have trained dogs for obedience, flyball, agility, scent detection, tricks, movies/commercials, conformation, hunting, search and rescue, personal protection and of course to be exceptional family pets! I am also an avid hiker, backpacker, canoeist and camper and nothing makes me happier than watching my dogs enjoy these activities along side me!
I have recently become a Mom and with that, I have decided to return to my roots. What better family dog is there than a Golden Retriever? I have worked along side my Mom for all these years, learning the ins and outs of breeding from the best! I am so excited to put my lifetime of experience into continuing the Maplelane legacy and being able to share it all with my daughter.