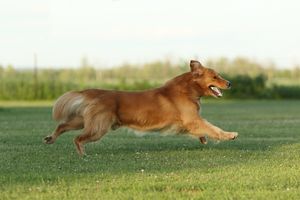 In order to breed healthy dogs from quality stock, we need a number of unrelated adult dogs in our breeding program. We prefer not to keep a kennel of dogs so in order to keep a large gene pool, we began our Guardian Dog program. This way, we can have various bloodlines available to us, but at the same time, supply the dogs with a wonderful home where they can enjoy quality family life on a day-to-day basis. 
Occasionally, we need a  Guardian Home for our breeding males and females, usually as puppies or occasionally young adults.  Our Guardian Families share their time and homes to raise our Golden Retriever, then once the dog has matured ay 2 years old, we will decide if they are of breeding quality. At that time, we begin the process of obtaining all their health clearances. 
The Guardian Dog program is a good deal for the dog, it is a good deal for the Guardians, and it is a good deal for our breeding program. It is one of those "win - win" situations for everyone involved.  That said, fostering is a unique ownership agreement and is not suited for everyone. 
We are selective in choosing a Guardian Family, and our primary concern is that the dogs are placed in a safe, healthy home where they will be well taken care of. At Maplelane, we want our dogs to be as happy and healthy as possible. To this end, we look for secure family homes to send our dogs to live. 
We only consider families that have prior experience with dog ownership. Preference will be given to families that will continue formal training and go on to compete in some type of show or sport. If you live more than 1 hour from our location, you must agree to meet us halfway when the dog needs to return to us for breeding related visits. 
As the breeder, we will maintain ownership of the dog and have access to breeding rights once the dog is of age and meets the requirements for our breeding program. Most dogs are retired from a breeding program at 5-6 years of age for females and 8-9 years for males. After this time, the dog will be spayed/neutered at the expense of the Guardian, and all ownership is transferred to the Guardian Family. If we decide that the dog is not of breeding quality, the dog will be spayed/neutered at the expense of the Guardian and ownership will be transferred to the Guardian at that time. The dog will never be taken from you unless they are found to be in poor condition and not having their needs met.
If you would like to be considered as part of our Guardian Program, please complete the application below. In the section asking about what litter, please state Guardian Program. Thank you!