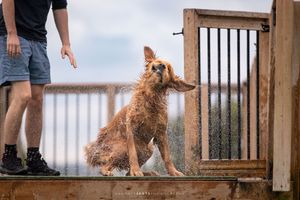 Welcome to the new Maplelane website! We have moved from our Event Center in Alliston and now reside in Minden, ON. 
We strive to produce amazing dogs with great health and a friendly, energetic temperament that are in line with the breed standard set by the Canadian Kennel Club. We have been breeding dogs for over 30 years with many going into sports, conformation, therapy and service work. 
Goldens are a powerfully built medium sized dog belonging to the sporting group. They were developed as hunting dogs in Scotland in the nineteenth century. They require a lot of exercise and training so if you are considering adopting one into your home, please make sure you have the time and resources to devote to them.
All of our dogs are screened for genetic abnormalities and health tested through the Orthopedic Foundation for Animals, PennHip and Animal Genetics. Our puppies come with a 3 year health guarantee for hereditary illnesses and are registered with the Canadian Kennel Club on a non breeding contract. We provide lifetime support for all our extended Maplelane family and love to keep in touch. We also host an annual Reunion every September!!
We are huge proponents of training, and therefore we include a two hour training session before you pick up your puppy as well as our Puppy Training Manual. Each puppy goes home with their first vaccines, microchip, food, first aid kit, pet insurance trial, documentation on both parents and lots of goodies. We offer online training classes and one on one private lessons. Devoting the first 2 years of your new puppy's life to training will create an incredible bond and well behaved dog for life. 
If you are considering adding a Golden Retriever to your family, please fill out one of our applications on the contact us page!